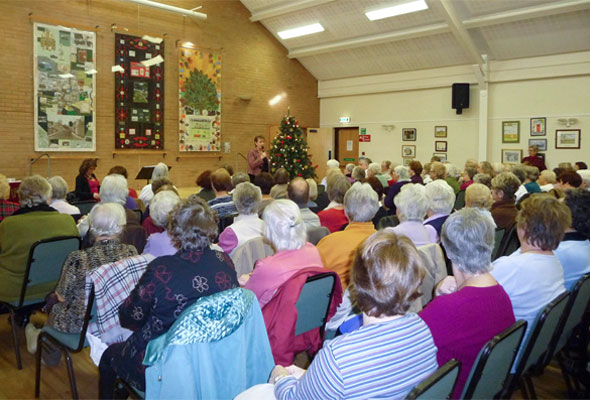 Countesthorpe U3A aim
The aim of Countesthorpe U3A is to enhance the lives of older persons in the locality who are not in full-time gainful employment. Our range of self help groups utilises members' own skills and knowledge to provide learning, creative, leisure and social activities in a friendly environment.
Your committee 2017/18
PETER BRADBURY (Chairperson) was born in Leicester and moved to Countesthorpe in 1968 with his wife Winifred. In 1978 the family moved to Sapcote, though an affinity with Countesthorpe has always remained. After teaching in Wigston schools for 36 years, Peter fully retired from his management and consultancy posts in 2007. He enjoys spending as much time as possible with family and especially his nine grandchildren. Peter joined the U3A in 2010 and participates in handbells, art, history, bird-watching, travel and groups. He enjoys DIY, reading, classical music and history, as well as voluntary work within Sapcote.

DAVID WILD (Membership Secretary) is married to Ursula. He is not native to this area but was soon hooked on village life after buying a house in Countesthorpe in 1978. He retired in February 2008 from a database-design career in insurance and quickly found that the U3A offered a very warm welcome. He enjoys a rewarding time with History Group trips, Sci/Tech meetings, Classical Music Group, walks and the warm buzz of the committee meetings. He also runs the Guitar group.

CHRIS CLARICOATES (Secretary) was born on the Isle of Wight and lived there for 14 years before her move to Countesthorpe. Married to Tony, they have three children who all attended local schools. Chris taught at Leysland High school for 25 years before her retirement and she now enjoys participating in the U3A History, Creative Writing, Theatre, Fit for Life and Folk Dancing groups.

SHERRY BURDITT (Vice-chairperson) moved to Countesthorpe in 1972. Married to Michael, they have two sons who both attended the village schools from nursery to sixth form. Having worked at a city secondary school she finally fully retired from her educational management and consultancy roles in 2015. Initially trained as an artist/ designer she is, at last, finding the time to develop her own artwork. She is also taking the opportunity to improve her bridge game at the U3A Bridge Group, to reconnect with old friends and spend time with her 4 lovely grandchildren.

JUNE HAWKINS (Publicity and Information) has lived in Countesthorpe since 1979 and been a U3A member since 2004. Since retirement from her senior management post in 2008, and also running her own small business she now enjoys U3A Travel, Creative Writing, Literature, Discussion groups and is also Group Leader for Theatre and History. She maintains the website and produces the Newsletter, What's On, group activity information and the monthly slide presentation. She edited and designed the four 'Creative Writing Miscellany' booklets.

HELEN BULL (Speaker Secretary) Helen has lived in Blaby for 50 years. On retirement from her post at Brockington College she sought a social/interest group to fill her anticipated spare time and has found companionship through involvement in the U3A, enjoying many aspects, including the monthly meetings and the Theatre, History, Literature, Walking and Allotment groups. Outside the U3A, Helen's interests include frequent visits to her three children and six grandchildren, and gardening, yoga and knitting.

URSULA WILD (Groups Co-ordinator) was born in Lancashire, married to David, and moved to Countesthorpe in 1978 where she was soon involved in all aspects of village life, including supply teaching in most of the local schools. She finally settled at St John Fisher Catholic Primary School and stayed there until retirement. She has become involved in many U3A activities, including History, Folk Dancing, Walking and Theatre. She is also Group Leader for Pilates, and her other hobbies include Travel, Lace-making and French Twinning Activities.


BERYL LISHMAN (Deputy Speaker Secretary) has lived in Countesthorpe for over 25 years. She has two, now grown-up, girls who attended the local schools and college. She is a retired primary school teacher who joined the U3A a couple of years ago when working part-time. She attends the Literature group, and the Tuesday meetings when possible and has been on several theatre trips. Apart from the U3A, she sings in the South Wigston Sing4fun choir and is a member of the Leicester Footpaths Association, as well as spending one day a week caring for her latest granddaughter. She welcomes the opportunity for more U3A involvement by serving on the committee.

GRAHAM COX (Treasurer) has been a member since 2008, having taken early retirement in 2002 from Insurance Broking. Married to Jane, they set up home in Countesthorpe in 1969 before moving to Narborough in 1978. He has been an active member of the Scout Association, holding both Leader and Commissioner Warrants. His hobbies include carpet bowls, walking, horology including restoration of mechanical clocks, book collecting, gardening and decorating.

EUNICE LUCAS is a retired schoolteacher and journalist. Eunice's family came to Countesthorpe in 1940 and she moved to her present home in Peatling Magna in 1974. She graduated from Leicester University before taking teaching posts at Whetstone Primary and Linden Junior schools. Her interests include walking, swimming, gardening, holidays, reading, sewing, cryptic crosswords and freelance writing. She belongs to the Lutterworth Choral Society, serves as secretary to the Peatling Magna Parish meeting and is a member of all the village committees. She thoroughly enjoys the social activities, especially Nordic and CARE Walking groups and theatre trips.

SHEILA BALDWIN moved to Countesthorpe from Twickenham in 1973. Both of her children were educated in the village, and she now has 4 grandchildren, 2 of whom also attend the local schools. A U3A member for about 3 years, she enjoys walking with SWANS, Pilates and trips out. Her outside interests include supporting the Leicester Tigers, walking, swimming and visiting her grandchildren.

BARRY HILLYARD (Deputy Secretary and Deputy Publicity and Information) has been a member since 2006, a year before his retirement from teaching mathematics and IT. Married to Pat, he has lived in Countesthorpe for 40 years, and has been involved with the Methodist Church and the Scouts. His hobbies include computers and photography. He runs the U3A Carpet Bowls, Computer, Nordic Walking and Beginners' Photography groups, and also participates in the Photography, History, Walking and Travel groups.